INDUSTRIAL MATERIALS DIVISION
About the Industrial Materials Division
The Industrial Materials Division offers an extensive array of products, including principal raw materials, intermediate materials and secondary materials, in the areas of urethane, paints, inks and adhesives in Japan and overseas.
A team of specialists familiar with these industrial sectors strives to provide valuable information and proposals to achieve continuous growth together with customers.
What we can do
TENKAZAI.com
TENKAZAI.com provides care chemicals such as resins, coatings, lubricants, electronic materials and raw materials for cosmetics as well as additives for food and animal feed.

To swiftly respond to customer requests, we operate a support system provided by technical staff through TENKAZAI.com (https://www.tenzakai.com).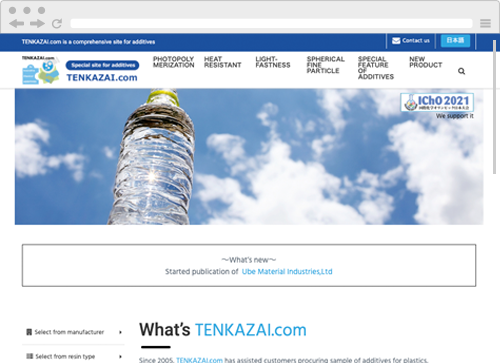 Notable products
Hydrofluoroolefin (HFO) – fourth-generation foaming agent
The Industrial Materials Division sells hydrofluoroolefin (HFO) as an environmentally friendly urethane foaming agent in Japan and in Asia.
Its unique features include non-depletion of the ozone layer, non-flammability and a very low global warming potential (GWP).
We contribute to greenhouse gas reduction through our sales activities, and are taking tangible actions to address climate change.
PTFE powder
Features of the PTFE powder we provide
Through our original PFOA-removing technology and mass production facilities, we have developed an environmentally friendly PTFE
for the Japanese market.
To comply with the Act on the Regulation of Manufacture and Evaluation of Chemical Substances, we carry out quality inspections on all lots to ensure safety and reassurance for all of the customers to which we supply products.

For details, refer to TENKAZAI.com.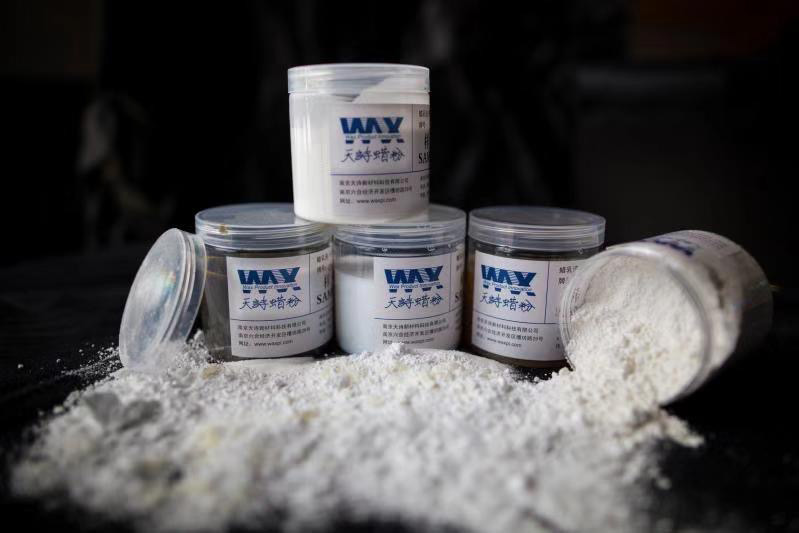 Products
Raw materials for urethane
Propylene oxide, polyols (PPG, POP, PEP and PCD), isocyanates (MDI, HDI, TDI and XDI monomers and their modifications),
adipic acid, ethylene amine, amine catalysts, foaming agents (such as HFC-245fa, HFO-1233zd(E) and pentane),
flame retardants, antioxidants, absorbents, foam stabilizers, mold releasing agents, aldehyde catcher agents, antibacterial agents, urethane systems and all other urethane products
Raw materials for resins
Petrochemical monomers (acrylic acid, acrylate esters, MAA and MMA)
Petrochemical modifiers (anhydrous phthalic acid, maleic anhydride, anhydrous succinic acid, and acid anhydrides)
Natural resins (gum rosin and its derivatives, and gum terpene and its derivatives)
Additives
PE wax, ultraviolet absorbers, photostabilizers, photopolymerization initiators, antioxidants, defoaming agents, thickeners, leveling agents, silane coupling agents, fluoroadditives, urethane hardeners, dispersing agents, emulsifiers, and precipitated barium sulfate
Organic solvents
Normal propyl acetate (NPAC), ethyl acetate (EAC), isopropyl alcohol (IPA), toluene, xylene,
methylethylketone (MEK), and acetone
Major customers
- Manufacturers of paints, inks and adhesives
- Manufacturers of automotive sheets and interior materials
- Manufacturers of housing, refrigerated warehouses and refrigerators (with thermal insulation for energy conservation)
Contact to

We are willing to accept your inquiries about our business services, products, suggestions, and requests.
Please click a contact button below.