CHEMICALS DIVISION
About the Chemicals Division
At the Chemicals Division, a group of experts including engineers in chemical industries give valuable information and proposals to achieve sustainable growth with customers from perspectives such as "Contribution to Carbon-free society", "Innovative changes in Automotive and Electronics industries", "Customers'Business Continuity Plans"

TENKAZAI.com is a website for exchanging technical information. It expands the availability of information on new technologies and products from many domestic and overseas suppliers. It is a website that quickly responds to customers' technical needs, including the provision of free samples, and continuously evolves in line with the arrival of the digital transformation era.
Introduced as a strategic distribution system, e-Commerce integrates small- and large-lot deliveries to contribute to efficient and environmentally friendly distribution linking suppliers and customers.

What we can do
TENKAZAI.com
TENKAZAI.com provides information of various additives for resins, coatings, lubricants, electronics materials food and animal feeds.
To swiftly respond to customer requests, we operate a support system provided by technical staff through TENKAZAI.com (https://www.tenkazai.com/en/).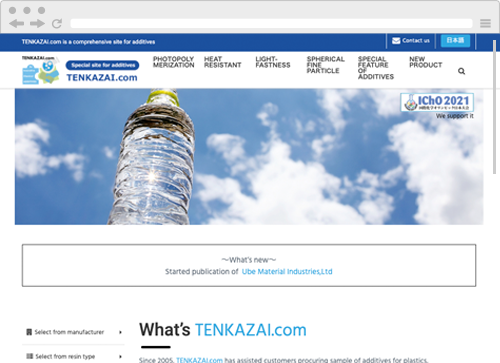 Provision of solutions
The Chemicals Division includes the R&D and Marketing Department, which includes engineers and specialists familiar with automobile and electronics industries.
We accurately identify the technical issues that confront customers and suppliers and grasp their needs in advance, and through these two processes, we offer optimal solutions.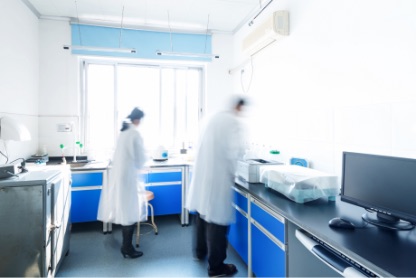 Notable products
Hydrofluoroolefin (HFO) – fourth-generation foaming agent
The Chemicals Division sells hydrofluoroolefin (HFO) as an environmentally friendly urethane foaming agent in Japan and in Asia.
Its unique features include non-depletion of the ozone layer, non-flammability and a very low global warming potential (GWP).
We contribute to greenhouse gas reduction through our sales activities, and are taking tangible actions to address climate change.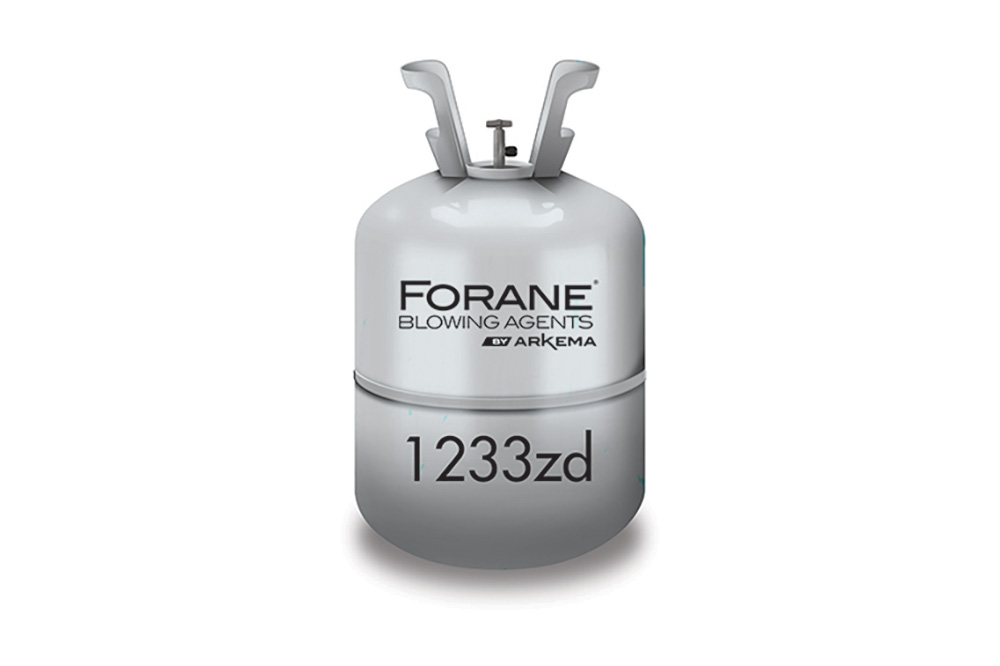 PTFE powder
Features of the PTFE powder we provide
Through our original PFOA-removing technology and mass production facilities, we have developed an environmentally friendly PTFE
for the Japanese market.
To comply with the Act on the Regulation of Manufacture and Evaluation of Chemical Substances, we carry out quality inspections on all lots to ensure safety and reassurance for all of the customers to which we supply products.

For details, refer to TENKAZAI.com.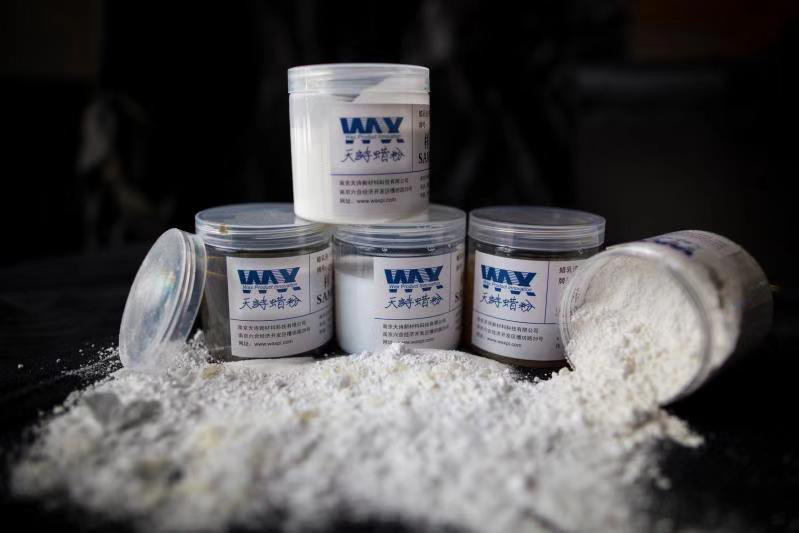 Products
Additive for resins

– Antioxidants
– Thermal stabilizers
– UV absorbers
– Polymerization initiators
– Polymerization inhibitors
– Antistatic agents
– Copper inhibitors
– Transparent nucleating agents
– Flame retardants
– Compatibilizers
– Antibacterial agents
– Flow improvers
– PE Wax
– Photo stabilizers
– Photopolymerization initiators
– Defoamers
– Thickners
– Leveling agents
– Silane coupling agents
– Fluorine based additives
– Urethane based hardeners
– Dispersants
– Emulsifiers
– Precipitated barium sulfatev
– CNT
– Graphene
Functional fillers

– Spherical silica
– Spherical alumina
– Glass flakes
– Hydrated magnesium silicate
– Clay
– Ketjen black
– Magnesium oxicide(Magnesia)
– Abrasives
– Electromagnetic absorbing fillers
– +interface control materials
Functional materials

– Benzyl alcohol
– Benzyl chloride
– Dibenzyl ether
– Dibenzyl ether
– 1,6-hexanediol
– DMA
– Trimethylolpropane
Battery related materials
Materials for lubricanting oil

– Extreme pressure additives
– Antiwear additives
– Wear conditioners
– Corrosion inhibitors
– Defoamers
– Fatty acid ester
– Fire resistant fluid
Natural Materials

– Caster oil
– Hydrogenated caster oil
– 12-hydroxy stearic acid(12HSA)
– Caster polyol
– Sebacic acid(+derivatives)
– Starch
– Vanilla Beans
– Pigments
– Polysaccharide thickeners
– Organic acids
– vegetable proteins
– Dietary fibers
– Colorants for animal feeds
– Vitamins and minerals fo animal feeds
Dyestuff, pigments and inks

– Reactive dyes
– Disperse dyes
– Pigment inks
– Pigments
– Sublimation transfer inks
– Reactive inks
– Acid inks
– Resin coloring dyes
Solvents

– NPAC
*normal propyl acetate
– EAC
*Ethyl acetate
– IPA
*Isopropyl alcohol
– Toluene
– Xylene
– MEK
*methylethylkeone
– Acetone
Raw materials for Polyurethane

– Propylene oxide
– Polyols
*PPG, POP, PEP, PCD
– Isocyanates
(+modifications)
*MDI, HDI, TDI, XDI
– Adipic acid
– Ethylene amine
– Amine catalysts
– Foaming agents
*HFC245fa, HFO1233zd(E)
*Pentane etc
– Flame retardants
– Antioxidants
– Absorbants
– Foam stabilizers
– Mold releasing agents
– Aldehyde catcher agents
– Palm oil based antibacterial agents
– Polyurethane systems
– Polyurethane products
Raw materials for resins, adhesives

– Acrylic acid
– Acrylate esters
– MAA
– MMA
– Anhydrous phthalic acid
– Anhydrous succinic acid
– Acid anhydrides
– Gum rosin
(+derivatives)
– Gum terpene
(+derivatives)
– Hyrdocarbon resins
– Polybutene, Polyisobutylene
Contact to

We are willing to accept your inquiries about our business services, products, suggestions, and requests.
Please click a contact button below.